Best Chicken Takeout near Voorhees NJ
Chicken sandwiches and wings have taken the country by storm, and for good reason. They're available in distinct flavors, budget friendly, and fun to enjoy on your own or with a group. Here at Simply Fowl our team is as passionate about quality chicken dishes as you are, which is why we've fully dedicated ourselves to preparing a wide range of tasty Jersey fried chicken creations that you can conveniently order for delivery or take out. Our restaurant is known for having a diverse selection of dishes to please patrons, including Buffalo wings, chicken tenders, and fried & grilled chicken sandwiches. That's a large part of why we're considered to offer the best chicken takeout near Barrington, New Jersey. We know that our food will satisfy and impress, whether you're dining at the office, at home, or at a special event.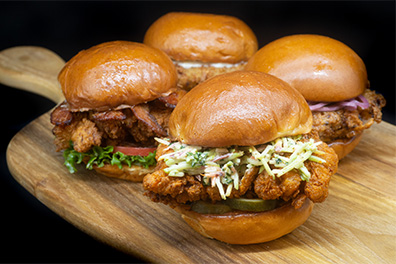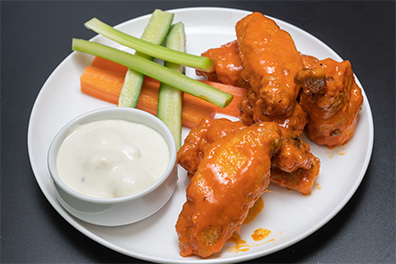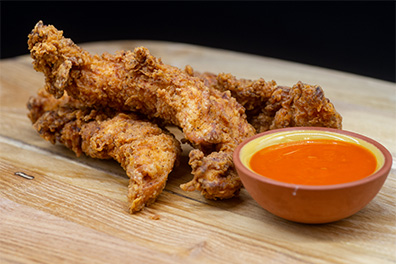 Chicken Sandwiches Near Me
Part of what makes our chicken dishes so incredibly tasty comes down to the preparation itself. The Simply Fowl team uses a singular "Dirty Jersey" process for effective marinating, and incorporates a unique spice and breading blend that successfully infuses superb flavor into every satisfying bite. Based on all of the patron feedback we've received, we have no doubt that you'll love our Barrington fried chicken in all its wonderful forms.
As you browse through our chicken menu, you'll see that we have a number of enticing sandwiches available to order for take out and delivery. At Simply Fowl, we believe in giving our patrons as much choice as possible, which is why our chicken sandwiches are available with your choice of fried chicken breast, grilled chicken breast, Tindle plant-based fried chicken, or Tindle plant-based grilled chicken. Please note that all options other than the fried chicken breast are available for an additional (yet reasonable) charge. You can even customize a sandwich to your liking, with choices for the chicken base, cheese, dressings/sauces, and other condiments.
Our skilled culinary staff have also put together an assortment of creative and delicious crispy chicken sandwiches near Barrington that patrons absolutely adore. First up is the Original Jersey Crispy Chicken Sandwich, which features our signature brined, seasoned, and fried chicken breast along with dill pickles, and house creamy garlic buttermilk sauce. If you're looking to kick things up a notch with additional heat, we recommend our Buffalo Chicken and Nashville Fried Chicken sandwiches. Chicken & Waffle enthusiasts absolutely adore our aptly-named Chicken & Waffle Sandwich, which takes crispy fried chicken breast, thick cut candied peppercorn bacon, hot honey butter, and maple syrup, and puts it between a delicious waffle "bun". All of these sandwiches pair incredibly well with our tasty sides, which include Crinkle Fries, Cheese Crinkle Fries, Tots, Southern Slaw, and Cornbread with Hot Honey Butter.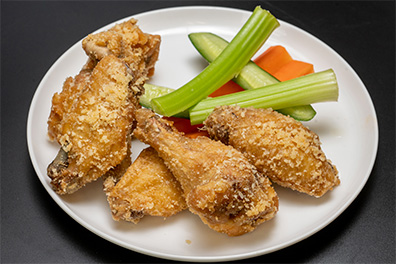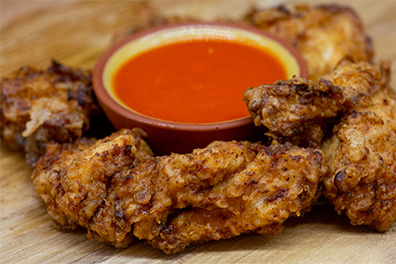 Voorhees Chicken Wings Delivery
Those that love chicken wings and chicken tenders will also find much to appreciate at Simply Fowl. To best accommodate customers' various take out and delivery needs, our masterfully-prepared Voorhees chicken wings are available to order in 12 piece, 24 piece, and 48 piece sizes. All wings come with a sauce of your choosing, and are served with celery, carrots, and homemade blue cheese dressing. Speaking of sauces, we have a wide range of options available, all of which are sensational in their own right. These include Classic Buffalo (tossed), Garlic Parmesan (dry rub), Lemon & Black Pepper (dry rub), Maple BBQ (on the side), and Spicy Korean Sauce (on the side). With all of these wings, you get the perfect balance of interior tenderness and exterior crunchiness that is made even better once the meticulously-crafted sauces are added.
Simply Fowl is also very pleased to offer Chicken Tenders (3 or 5 pieces) and Chicken Bites (6 or 9 pieces) that are carefully hand breaded to order in our unmatched seasoning mix for maximum satisfaction. When you order this for takeout or chicken delivery near Voorhees, you can select a sauce (Hot & Honey Buffalo, Honey Mustard, House BBQ Sauce) as well as a dressing (Blue Cheese, Homemade Ranch, Honey Mustard). While the tenders and bites are absolutely delicious on their own, adding these sauces and dressings to the mix unlocks a whole new level of flavor and overall enjoyment. For those interested in tasty plant-based alternatives, our Tindle Plant Based "Chicken" Nuggets are a definite must-try.
Those with children know that it can sometimes be challenging to order food when there are both adults and kids to consider. That's why Simply Fowl offers a number of Kids Meals, each of which includes fries as well as a juice box. There are not only meals with Chicken Tenders and Chicken Bites, but Grilled Cheese and Mac & Cheese also. We know that kids absolutely love these dishes, and will be excited to have them time and again. As you browse through our menu, you'll also see that we have a wide range of refreshing beverages available, from Jarritos to Boylan's Creme Sodas, Iced Teas, and Lemonade. We also hope that you'll consider treating yourself to one of our tantalizing desserts, which include warm cookies, Van Leeuwen Ice Cream, and an out-of-this-world Glazed Cinnamon Roll.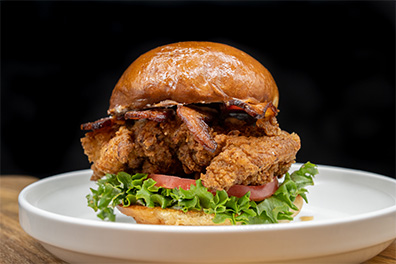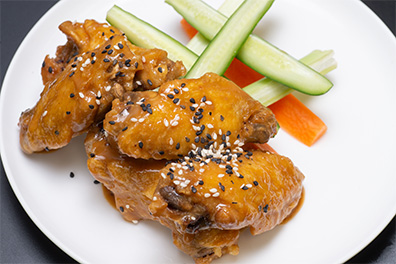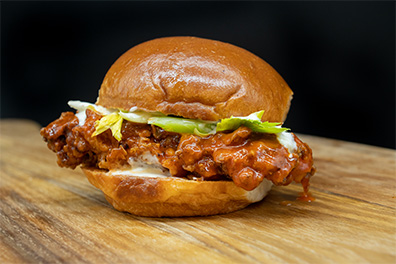 Top Chicken Sandwich & Wings Restaurant near Voorhees, New Jersey - Simply Fowl
From the very beginning, Simply Fowl has been fully committed to making it as easy as possible for patrons to place their online orders for Voorhees chicken takeout and delivery service. In virtually no time at all, you can choose the items you'd like, select any modifications or additions, and then securely checkout. For those that prefer to order by phone, we're happy to assist you at (856) 702-2817. Once we receive your order, we prepare the meals fresh and with a focus on accuracy and efficiency. It is our goal for your order to be made correctly and in a timely manner so that you can enjoy your sandwiches, wings, tenders, and bites as soon as possible. With our chicken catering services, you can even have our fantastic dishes prepared to serve at your next special event or gathering.
As an added bonus, Simply Fowl is one of the nine restaurants that comprise Foodiehall. What this means is that when you go to place your order, you can include dishes from any of the other partner restaurants as well! Have people you need to feed that don't enjoy chicken? Not a problem! There's pizza, burgers, tacos, pasta, cheesesteaks, and so much more available at your fingertips. We take great pride in our food and service, and hope for the opportunity to serve you soon.
Best Chicken Take Out near Barrington, Cherry Hill, Clementon, Collingswood, Gibbsboro, Haddon Heights, Haddonfield, Lawnside, Magnolia, Marlton, Merchantville, Mount Laurel, Somerdale, Stratford, Voorhees, West Berlin, Erlton-Ellisburg, Woodcrest, Barclay-Kingston, Ashland, Maple Shade, Moorestown, Pennsauken, Lindenwold, and surrounding areas.