Best Chicken Wings Delivery near Barclay-Kingston, Cherry Hill NJ
Nowadays there are few dishes that can match the overwhelming appeal of chicken wings. These delicious bites have cemented their place as a true staple of American cuisine, and are appreciated for their tender meat, crispy exterior, and seemingly limitless assortment of flavors. Whether you have a hankering for wings to satisfy your lunch or dinner-time hunger, or need tasty food for guests to munch on during a football watch party or other social event, Simply Fowl is pleased to be at your service. Locals consider us the go-to choice for the best chicken wings delivery near Barclay-Kingston, Cherry Hill, New Jersey, because our food is consistently fresh, flavor-packed, and competitively priced. Add exceptional service to the mix, and you have a thoroughly satisfying experience from start to finish.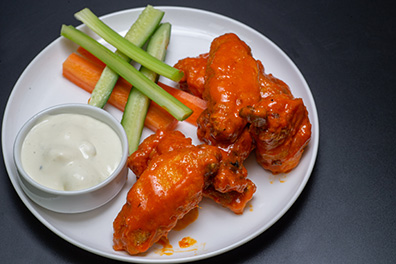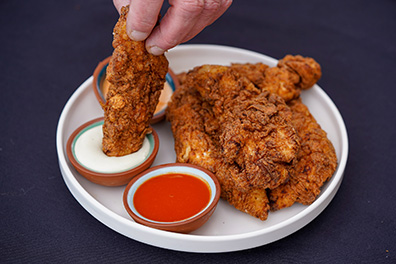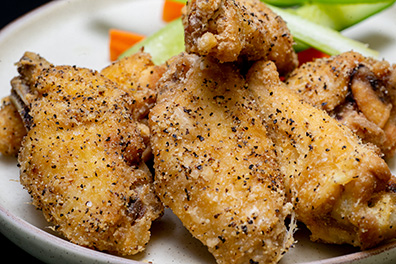 Wing Delivery Near Me
Anyone that has tried our chicken wings will tell you that there's a unique quality to them that sets them apart from offerings at other establishments. The special nature of the wings stems in large part from our distinct, time-tested preparation procedures. We employ a highly effective "Dirty Jersey" marinating process and combine that with a unique amalgam of spices and breading to produce chicken wings that burst with incredible flavor in each bite you take. If you're one of the countless people that adore fried chicken, we have no doubt that you'll absolutely love our Barclay-Kingston, Cherry Hill wings delivery.
Check out our chicken menu, and you'll see that our wings are available in 12-piece, 24-piece, and 48-piece options. Whether you need to feed a handful of people or many, you'll have premium chicken wings to handle everyone's hunger. To help enhance your overall experience, all wing orders are served with homemade blue cheese dressing and fresh carrots & celery. When you place your online order for chicken wings delivery service near Barclay-Kingston, Cherry Hill, you can choose between the following sauces: Classic Buffalo (tossed), Maple BBQ (on the side), Lemon & Black Pepper (dry rub), and Garlic Parmesan (dry rub). Each delectable sauce offers tremendous flavor for you to enjoy. We also encourage you to try our wonderful Chicken Tenders and Chicken Bites, which are equally fantastic.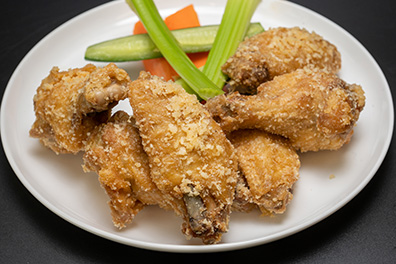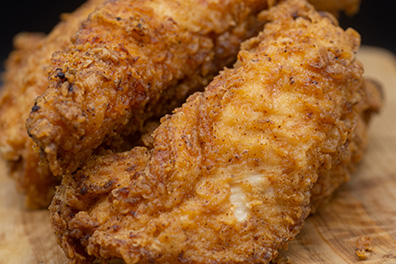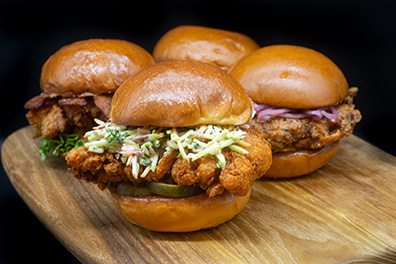 Barclay-Kingston, Cherry Hill Buffalo Wings Delivery
When it comes to having food delivered, nothing is worse than receiving an order that has wrong items, missing items, or arrives so late that everything has gone cold. That is why our incredible chefs and support staff work tirelessly each day to help make sure that we get all delivery orders out the door as quickly as possible while still carefully checking them for correctness. Your total satisfaction is very important to our entire team, and nothing makes us happier than exceeding customer expectations.
Placing an online order for buffalo wings delivery near Barclay-Kingston, Cherry Hill is quite convenient, and requires minimal time and effort. All you have to do is choose the items you want, make any selections required or modifications desired, and complete the checkout process. The convenience doesn't end there, however, thanks to Simply Fowl being one of ten premier restaurants that make up Foodiehall. As a result, you can include menu items from as many of these partner restaurants as you'd like in one simple delivery order. With a wide range of cuisines available (including American, Mexican, Asian & Italian), you won't need to fret about members of your dining party wanting different types of food.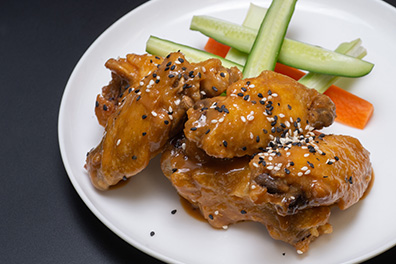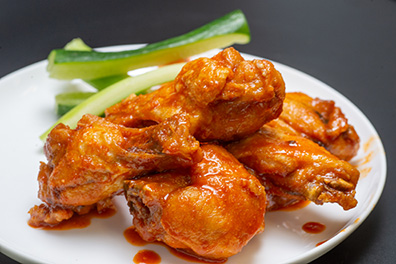 Simply Fowl - Top Chicken Wing Restaurant near Barclay-Kingston, Cherry Hill, New Jersey
Customers love getting their wing deliveries from Simply Fowl because our food is fresh, packed with amazing flavor, and reasonably priced. They also appreciate the fact that we take order accuracy seriously while still getting food sent out in a very timely fashion. We take great pride in our chicken wings delivery near Barclay-Kingston, Cherry Hill, and have no doubt that you'll be glad you ordered from our wing restaurant. If you would like additional information, or have any questions, we hope that you'll give us a call at (856) 702-2821 or reach out online. We look forward to serving you soon.
Best Chicken Wings Delivery near Barrington, Cherry Hill, Clementon, Collingswood, Gibbsboro, Haddon Heights, Haddonfield, Lawnside, Magnolia, Marlton, Merchantville, Mount Laurel, Somerdale, Stratford, Voorhees, West Berlin, Erlton-Ellisburg, Woodcrest, Barclay-Kingston, Ashland, Maple Shade, Moorestown, Pennsauken, Lindenwold, and surrounding areas.